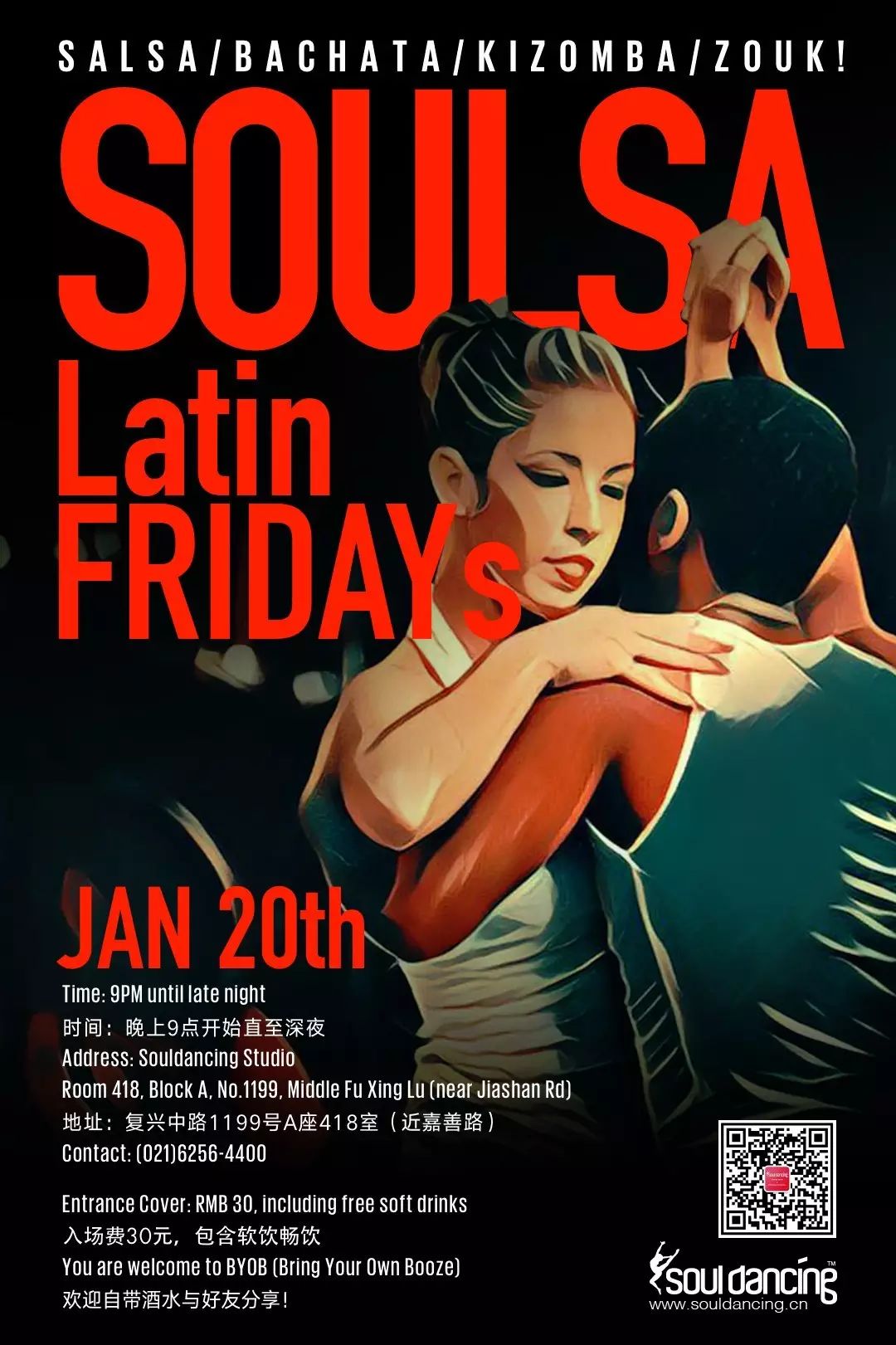 Quit hiding your magic! The world is ready for you!
When you connect with people in dancing, you feel it. This is a big deal. Don't forget to acknowledge how great it is to be around some friends that lights you up. So come and join us this Friday and show us your groove!
释放你的魔力!周五SOULSA派对再次与您相约!
在非凡的salsa/bachata/kizomba/zouk音乐中感受与朋友的交流沟通,是一种难忘的体验。本周五,SOULSA派对再次与您相约,希望您和往常一样,再次度过一个酣畅淋漓的拉丁之夜!
---
Three DJs! Two Floors!三位DJ!两层舞池!
A dedicated room on 2nd floor for Bachata, Kizomba, Zouk dancers & lovers will be open!
除却1楼超过500平米的Salsa舞池,我们将在2楼新开设一间房间,专程播放Bachata, Kizomba, Zouk等音乐,您可根据您的喜好来自由选择音乐及舞池!
---
Date & Time: 9.00pm, Janurary 20th, Friday
时间:1月20日周五晚9点
DJ Line up:  Guest DJ Reno & DJ Lanlan & Host DJ Jimmy Yoon
Music: Salsa Dura, Salsa Romantica, Fania Era, Palladium Era, Mambo, Timba, Son Montuno, Guaguanco, Bachata, Kizomba, Zouk
Entrance cover: RMB30 including free soft drinks
入场费: 30元含软饮畅饮
You are welcome to BYOB (Bring Your Own Booze)
欢迎自带酒水,与好友分享!
Address:  Souldancing Studio, Room 418, Block A, No.1199, Middle Fu Xing Lu (Jiashan Rd)
地址:复兴中路1199号A座418室 (近嘉善路)
Contract: (021) 6256-4400
---
Our host Jimmy Yoon will be on a short trip this Friday, but we will see him soon next week!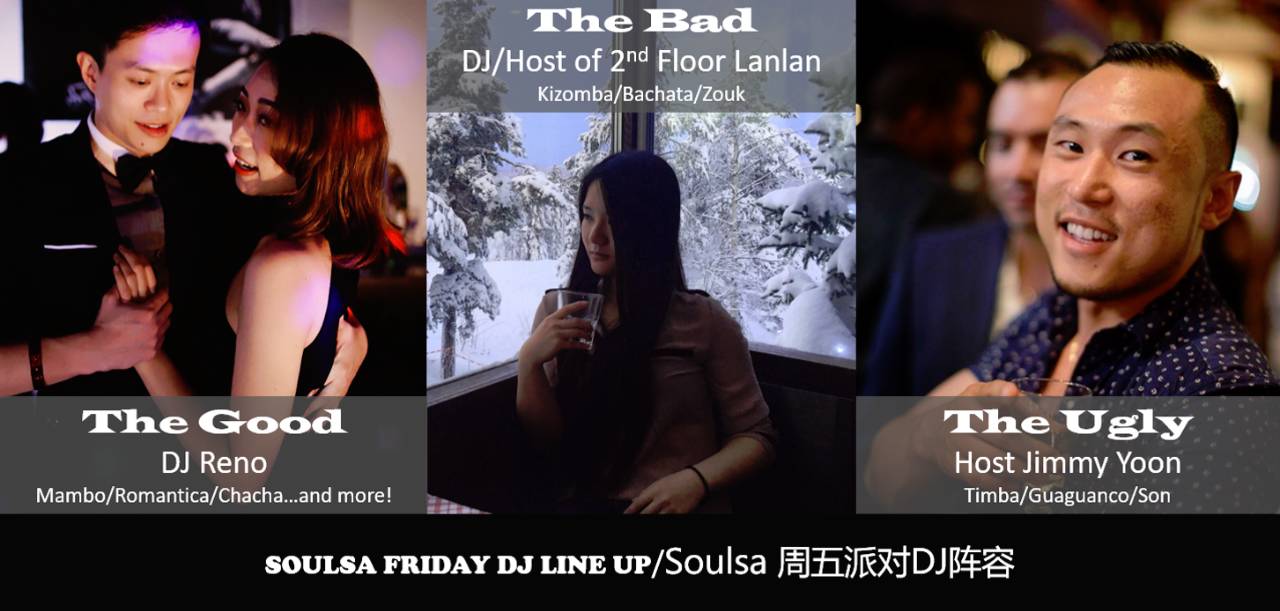 Introducing Guest DJ Reno/ 特邀嘉宾DJ Reno介绍
本周五,Soulsa Friday特邀嘉宾DJ Reno加入我们的DJ阵容。
This Friday Soulsa party presents you special guest DJ Reno。
在巴黎求学之时,Reno偶然在酒吧接触到Salsa舞蹈和音乐,并在回国后开始学跳,渐成学霸。
Reno ran into Salsa while studying in Paris. Right after returning to China, he started to take class and slowly become someone who spend crazy amount of time in dancing salsa .
他跟随多位优秀老师持续深造,同时辅修Bachata, Kizomba,是上海少有的全能选手。
He followed some of the best Salsa instructors in China and from abroad, picked up Bachata and Kizomba as well. He is now one of the few who's good at all these dances in the city.
Reno的信息收集归纳能力出众,喜欢研究Salsa音乐历史,发掘Salsa音乐全盛时期的经典,也不忘留意最新的Salsa音乐发展,搜索能力在上海Salsa朋友之间小有名气。
He enjoys studying the history of salsa music and explore the classics of salsa golden era, at the same time pay attention to the current Salsa trend.
本周五,让我们欢迎嘉宾DJ Reno呈现他独树一帜的Salsa曲风!
Let's warmly welcome his debut gig in Souldancing this Friday!
-The End-