Too cold to countdown at Shanghai Times Square? Too crowded to watch the 4D lighting show at The Bund?
We've got you a plan for new year celebration – SOULSA New Year Eve Countdown Party & Chachacha Open Class at Souldancing on December 31, 2016 and Salsa Workshops on January 01-03, 2017, plus a series of bootcamp performance party & after parties.
Honored guests are from Paris France – Mouaze & Ella
Mouaze & Ella Salsa Workshop/ Party Schedule
Day 1: They will explain in details practical styling secrets during partnerwork (both salsa & chachacha), their method of teaching is clear and easy to follow for students of all levels. It reflects his passion for helping his students become stylish and playful social dancers.
Day 2 & 3: a 6 hour intensive styling performance bootcamp for people who wish to improve solo and individual styling in a short time, it will be a unique mix of salsa, chachacha, pachanga elements, and most important, how to dance to music yet look great.
Souldancing Studio
Room 418, Block A, No.1199, Middle Fu Xing Lu (near Jiashan Rd)
Elevator Lounge
218 Xinle Lu & Donghu Lu on the 4th Floor. South Shaanxi Lu Line 1/10/12
For info. inquiry & ticket purchasing, please contact 
Mobile: 13817791830
Wechat: 13817791830 (please add in friends request: "Mouaze WS")
or long press below picture to enter wechat shop for ticket purchasing directly
For Souldancing Membership, 12% off upon early bird price.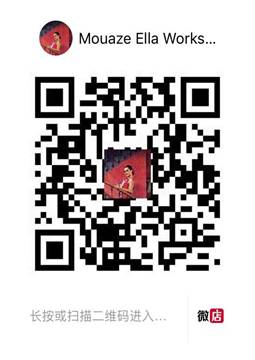 Mouaze & Ella's Introduction
Mouaze Konaté, is probably one of the most sought after male salsa dancers in Europe. Traveling almost non-stop from one salsa festival to the next, this gentleman surely has something unique,  dancers all around the world want to experience time after time.
Representing Paris, France Mouaze is known for his fluid salsa New-York On2 style and chachacha dancing, his charismatic character, showmanship and wonderful sense of humor with pleasurable leading skills on the social dance floor. His creative choreographies which vary from dynamic movement with control and style, elegant and great musicality.
Before Salsa Mouaze practiced Karaté for several years. He won lots of competions and was teaching for five years
Mouaze performs and teaches all around the world to share his passion for Salsa, UK, China, US,Spain, Holland, Italy, Morocco, Puerto Rico, Switzerland, Germany, Russie and many many further countries. Mouaze had been on stage with musicians such as Eddie Palmieri, the Spanish Harlem Orchestra and Andy Montanez.
Ella Jauk, born and grew up in Croatia, was a professional dancer in many dance genres. When salsa became popular in the country she immediately fell in love and incorporated all her dance trainings, styles into her salsa dancing and moved to Paris to be Mouaze's partner. Besides regular classes at Mouaze school, her lady styling choreographies always bring audience something different, fresh, elegant, yet full of fun.